While most people know the Thomas family for their son's famous smirk, Dave and Rhiannon's story is much more than an internet sensation.
After meeting as students at Longwood University at Main Street Lanes bowling alley, Dave '05 and Rhiannon '04 Thomas were married and proud parents of two future Lancers, Mason and Riley.
After their second child in 2014, Riley was born with
Wolf-Hirschhorn Syndrome,
an extremely rare chromosomal disorder. Through surgeries and doctor's appointments, Riley and the entire Thomas family has found support in their alumni community – and Riley's ever present smile.
How did your photo become an internet sensation?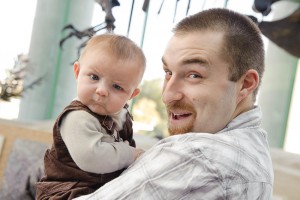 We had gotten some family photos taken when our son Mason was about three months old, one being the now famous picture, (that actually includes Dave in the original) and we loved it. In January of 2012 Dave submitted the photo to the website reddit.com. He thought it was just a funny picture and that other people might enjoy it also. Soon after, users  on reddit cropped the photo and went crazy making funny versions of it – Mason's face went viral and has been floating around ever since.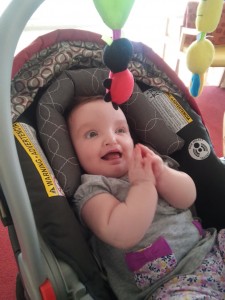 How do you think your son will react when he finds his baby photo all over the internet?
He knows the photo is of him, but since he's only four, he doesn't really understand the internet and how it works quite yet- but he knows we love the picture and that a lot of people have seen it. He enjoys any type of attention in general right now, so we hope he likes it as much as we do when he understands what a meme is!
What is Wolf-Hirschhorn Syndrome?
Wolf-Hirschhorn syndrome is an extremely rare chromosomal disorder caused by a partial deletion of chromosome 4, affecting multiple parts of the body. Major features of this disorder include a characteristic facial appearance, delayed growth and development, intellectual disability, and seizures.
What has been your biggest joy with parenting?
Seeing our children happy. Being a parent in general is one of the toughest jobs there is, more so when you have more than one child, and even more when one has special needs. Often times we wonder if we're doing our best for them, but seeing them smile, hearing them laugh, and knowing that no matter how much you feel like you are messing up,  they are happy – and  that is the best feeling.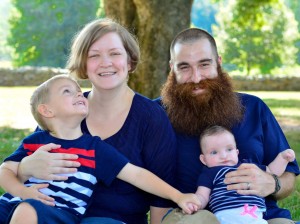 What suggestions do you have for new parents, or parents with children with disabilities?
Find support. With family, friends, strangers, even support groups. Our family and friends are going through this with us, and have been unbelievably supportive with something that no one has any experience with. It truly is a learning curve and we are all learning it together! Our family is so fortunate for the support, not every family has that type of encouragement.
My biggest piece of advice: Don't tell yourself that how you feel isn't okay. Someone else is or has felt that way parenting at some point too.
You can show your support for Riley and the Thomas Family on their page HERE.
 
Are you a parent of a Lancer Family?
Show the kids your Alma Mater in a fun way for everyone at the Alumni Family Game Day!
Get to know the Thomas Family:
Comments
comments