Activities, Academic Programs and Planning Are Ramping Up As Oct. 4 Nears
BY KENT BOOTY
Excitement is building
toward a Tuesday evening this fall when the eyes of the nation will be on Longwood.
Preparations for the U.S. Vice Presidential Debate, set for Oct. 4 in Willett Hall, are in full swing. Countless events and activities related to the debate are planned. Committees have been formed to manage the details of various aspects of the debate, and members of the news media have visited campus to coordinate how they will cover an event that is expected to be viewed by at least 50 million Americans.
Long after the debate, Longwood will continue to benefit from the connections being made and innovations being implemented as a result of this historic event on campus.
---
Speakers
to focus on obligations of citizenship
The Office of the President is offering funding to academic departments to invite prominent speakers to campus to discuss with students the obligations of citizenship in their chosen fields. The Academic and Public Programs Committee, chaired by Ryan Catherwood, assistant vice president for alumni and career services, is helping departments with planning and logistics.
---
More than 30

new and restructured courses in 15 disciplines will be offered this fall, each taking its inspiration from the U.S. Vice Presidential Debate.
In economics, students will apply "game theory" to the electoral process. In communication studies, students will examine political advertising, media coverage and statements made during debates, with their radar fine-tuned for instances of lying and deception.
Students in a photography class will spend the fall semester documenting the political process as photojournalists, traveling to large and small campaign events throughout the region, including two of the four general election debates.
"The faculty have risen to the challenge and put their minds to work on exploring the themes of democracy, citizenship and elections from every conceivable angle," said Dr. Pam Tracy, associate professor of communication studies and director of the Center for Faculty Enrichment, who is coordinating the curriculum changes with Dr. Derek Taylor, associate professor of English and director of the Committee on General Education.
---
SGA has the debate spirit
The Student Government Association (SGA) is ramping up its involvement in the debate, making funding available to student organizations holding debate-related events and organizing activities of its own. An SGA-sponsored "Debate Spirit Week," set for Sept. 19-23, will include a mock debate Sept. 21 hosted by the Politics Club, College Democrats and College Republicans; voter registration and pledging-to-vote efforts; and other activities, said Cheryl Steele, associate dean of student engagement.
---
Learning channels open up
Longwood students will interact with the debate and political process in ways never imagined just 10 years ago. Partnerships are under development with some of the most used social media platforms to provide a digital experience on a scale not seen before. But beyond an enhanced debate-day experience, these partnerships will provide several students with internship opportunities, give university communications staff robust tools to grow Longwood's social media footprint and help Longwood develop an unprecedented reach into the pool of potential students who consume much of their news through social media.
---
Students celebrate their role in democracy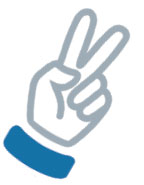 The U.S. Vice Presidential Debate season kicked off on the Longwood campus March 23, with the university's first debate inspired event: Longwood's Democracy Day celebration.
A national event organized by Rock the Vote, Democracy Day focuses on the impact of the 26th Amendment to the Constitution, which gives 18-year-olds the right to vote.
Longwood's Democracy Day was part rally and part voter education. Students registered to vote and signed a pledge to vote this fall. They also heard firsthand what it's like to work in a presidential campaign—and in the White House—from Reggie Love, former special assistant and personal aide to President Barack Obama.
The voter-registration effort, led by the Student Government Association, netted about 40 new voters. One of them was Zimbabwe native Praise Nyambiya '18, a biology major from Frederick, Maryland, who became a U.S. citizen in fall 2015.
"I feel like an American now," he said after registering online at a table inside the entrance to Dorrill Dining Hall. "It feels good to be registered. Everybody should do it."
---
50 Million Americans
are expected
to view the debate
Oct. 4
---
1,000 Volunteers
Some details of the upcoming U.S. Vice Presidential Debate are still being squared away, but one element of the event is not in question: There will be plenty of volunteers.
As of late June, about 900 students, faculty, staff, alumni and community members had signed up to help out.
"We got over 500 volunteers the first week, and it's been steady ever since. We've had someone sign up every day since we began Feb. 4," said Macrae Hammond '14, M.S.'15, special assistant to the vice president for strategic operations and coordinator of volunteers.
Alumni have been among those eager to volunteer. "Many alums want to host a watch party in their home or neighborhood," said Hammond. "It's important for them to remember that they can be involved off-campus as well."
---
Experts to discuss cybersecurtiy
Cybersecurity and its role in national security is 
always a hot topic.
When leading industry and government experts weigh in, the temperature really climbs. On Sept. 16, the College of Business and Economics will convene just such a panel at 3:30 p.m. for a discussion of how the incoming presidential administration and citizens can advance cybersecurity.
On hand will be 1. Rhonda Vetere, chief technology officer for Estée Lauder Companies; 2. Rodney Blevins, senior vice president and chief information officer for Dominion Resources; 3. retired Marine Gen. James Cartwright, former vice chairman of the Joint Chiefs of Staff; and 4. Dr. Val Rahmani, former IBM cybersecurity executive. Moderating the panel will be Roben Farzad, host of NPR's "Full Disclosure." The event is open to the public.
---
Commemorative Craft Beer In The Works
Friends of Longwood will be able to toast the debate with a unique craft beer created by Brothers Craft Brewing of Harrisonburg. The popular brewery will create an exclusive "vice presidential debate" beer currently planned to be an oatmeal stout. The beer likely will be served at regional alumni tap-takeover events, said Director of Alumni Relations Parks Smith '08. Brothers Craft Brewing (formerly Three Brothers Brewing), began production in 2012.
---
America's favorite moderator to speak at Convocation
Jim Lehrer, the legendary "PBS News Hour" host who has moderated 12 U.S. Presidential and Vice Presidential Debates, will address students at Convocation on Sept. 8.
Lehrer's memoir of his experience as a debate moderator, Tension City, was selected for Longwood's First Year Reading Experience this fall and will be read by all incoming freshmen. In addition to his Convocation address, Lehrer will speak with freshmen during his visit to campus.
Nicknamed the "dean of moderators" by CNN's Bernard Shaw, Lehrer is widely respected for his nonpartisan and well-prepared approach to moderating debates. His talk is set for 4 p.m. on the lawn behind Lancaster Hall.
---
Student participates in national college debate initiative
Maribeth Stotler-Watkins '17 is participating in College Debate 2016, a national nonpartisan initiative to engage young voters in the presidential election. She was one of 138 student delegates from across the country who, as part of the initiative, attended a conference in June at Dominican University of California designed to help students organize issue-focused events and outreach on their home campuses.
---
High-school teachers jump on the debate bandwagon
A group of about 25 secondary social studies teachers from across Southside Virginia are integrating election-related discussions into their classes with the help of a summerlong professional development program led by Dr. David Locascio, associate dean of the College of Education and Human Services.
---
Comments
comments