After 40 successful years, curtain to close on alumni director's Longwood career
Two of Longwood's first three alumni directors each held the job for 17 years. Nancy Britton Shelton '68, the fourth person to fill the position, didn't think she'd be in the job anywhere near that long.
"I jokingly told my husband that if I had the job for 17 years, I'd kill him," said Shelton, who will retire April 1 after nearly 41 years as the university's first full-time alumni director. "I didn't plan to be here for 17 years, much less 40—but life changes."
Shelton has been a constant at Longwood amid the changes of those four decades: the admission of men, presidential transitions, and Longwood College becoming Longwood University. Throughout that time, the third-generation alumna has been not only the face of the alumni office but also of Longwood itself.
"For graduates, many of them from multigeneration Longwood families, Nancy has been the welcoming voice and friendly face of their alma mater," said Colleen Margiloff '97, rector of the Board of Visitors and former president of the Alumni Association. "Nancy is often the first person people think of when they think of Longwood."
Shelton, who planned to be a social worker, became alumni director by accident. After graduating from Longwood, she worked as a juvenile probation officer in Martinsville for 2-1/2 years and earned a master's degree at Virginia Tech. She planned to earn a Ph.D. and return to the field of juvenile delinquency prevention.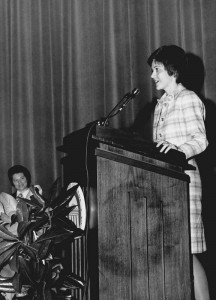 "I came back here because [sociology professor] Kathleen Cover needed someone to teach Introduction to Sociology for a year or two," said Shelton, who taught sociology here from 1972-74. "But I got married in 1973 and decided not to pursue a doctorate. I wanted to stay at Longwood, so I looked for an administrative job, and this one just fell into my lap. I was in the right place at the right time. It's been fun. I've met the neatest people."
She began July 1, 1974, in the position, which was then known as executive secretary of alumnae relations. She retires as associate vice president for alumni relations.
Shelton's retirement comes just before the scheduled opening later this spring of the Maugans Alumni Center, which she considers her proudest achievement. The alumni center was made possible by, among other gifts, a $2.5 million bequest from Katharine Allen Maugans '46.
"I remember Mrs. Maugans walking up the sidewalk of the Rotunda for a reunion in the 1970s in her Navy uniform, in which she looked impressive," said Shelton. "She was a fine person and was always very much in control. I had known her for 30 years before Franklin Grant [now-retired fundraiser] and I asked her for money. Without any hesitation, she said yes."
Shelton also deserves credit for making the long-awaited alumni center a reality, said Margiloff. "It was Nancy's passion and determination that made the Maugans Center happen," she said.
Two other career memories that Shelton called "really special" are the dedication of Brock Commons, which she describes as "one of the most transformational projects we've ever had," and the reopening of Ruffner Hall. Present at the Ruffner reopening was Shelton's mother, Sue Yeaman Britton '34, who attended as the representative of her class.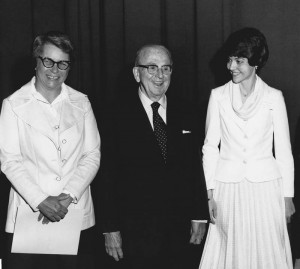 Thanks to her mother, who created the Sue Yeaman Britton Scholarship and lived to be 97, Shelton was exposed to alumni work at a young age. Britton was active on the Alumni Board, serving many years as the president of the Roanoke alumni chapter. "Beginning when I was 9 or 10, I would help her with the chapter's rummage sale at the Roanoke city market, held about once a year," said Shelton, a Roanoke native. "So when I became alumni director, I already knew some of the women in the chapter."
Did her mother steer her to Longwood? Oh, yeah," Shelton said with a laugh. When I told her the two schools I was applying to were Radford and Longwood, she said,
If those are the two schools you're applying to, you're not applying to Radford and you are applying to Longwood.' She was thrilled that I came here." Her mother was no doubt motivated by a desire to continue the family's Longwood tradition started by Shelton's maternal grandmother, Maud Chernault Yeaman,
Class of 1905.
During her time as a student, Shelton majored in history/social science (there was no sociology major then), and was a member of Who's Who, Chi and the Judicial Board. She also was the fire marshal, a student government-appointed position in which she pulled the fire alarm in Ruffner for all of the fire drills.
In the fall of her senior year, she was Longwood's Harvest Bowl princess; she then was chosen the 1967 Harvest Bowl Queen at the Harvest Bowl, an annual football game between VMI and Virginia Tech played in Roanoke from 1958-69.
One aspect of her job that Shelton has enjoyed is working with presidents of the Alumni Association and members of the Alumni Board. "I've worked with so many good alumni presidents, many of whom I consider not just people I've worked with but friends," she said.
Former alumni president Drew Hudson '90 is one of those friends. "Nancy's work on behalf of Longwood is way more than a career; it is almost a vocation—it appears to have been a calling," he said. "She is a lovely hostess and thorough event planner whose poise, grace and intelligence have prevailed over Alumni Relations for decades."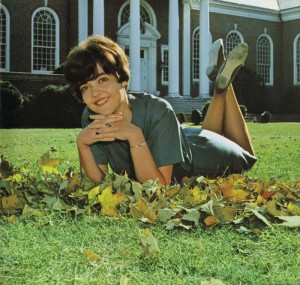 Shelton was asked what she likes about Longwood. "The people, the spirit and the traditions that have continued. I also like the ties with alumni from so many generations and their willingness to be involved in Longwood. At reunions, it's neat to see people reconnect with friends and with Longwood."
Shortly after Longwood became fully coeducational in 1976, Shelton was gratified that one Longwood tradition was left untouched.
"There was a movement to get rid of the Joanie on the Stony statue, which some people thought would be perceived as too feminine, but a group of male students said, 'No, leave it.' They were more supportive of our traditions than I thought they'd be."
Shelton is beloved not only by alumni but also by her coworkers. "I have known Nancy as a student, colleague and friend for over 30 years, and there is no one I admire and respect more," said Paula Clay Prouty '85, director of advancement services. "She serves as the example of the Longwood spirit, always thinking of her alma mater first."
Shelton and her husband, Bob, are moving to a condo in Columbus, Ohio, where they'll be 15 minutes from their younger daughter, Jessica Banachowski. Shelton and her husband also have another daughter, Meredith Ewing, who lives in Salem, and five grandchildren.
President W. Taylor Reveley IV announced Shelton's upcoming retirement to the campus community in January.
"Longwood's greatest strength is our sense of family and camaraderie, and I can think of no one who has done more to shape and nurture those virtues than Nancy Shelton," Reveley wrote. "I simply cannot overstate what she has meant to Longwood. Her passion, institutional knowledge and commitment to the mission of citizen leadership have played a fundamental role in what I believe is one of our great institutional accomplishments—maintaining all along our inspiring traditions and identity."
Margiloff echoed those sentiments.
You cannot say enough about Nancy's impact at Longwood. She is a hidden gem for students. They don't know what is waiting for them while they are on campus—but once they leave, they feel her impact everywhere. Not many people can say that they made a lasting impression, literally and figuratively,
on a university campus."
By: Kent Booty
Comments
comments