New app eliminates the guesswork in a fun evening out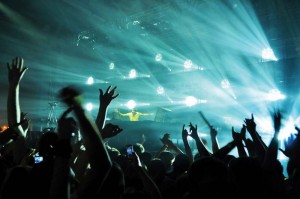 Going out always involves a lot of guesswork: Will the party at the club be bumping? Or will you wait for an hour only to find a lifeless crowd?
An award-winning app being developed by a team of college students could make those social missteps a thing of the past.
Longwood senior Allen Butler '15 is using his technical expertise to help develop Nuvu, an app that a startup company hopes to release within the next year. The app—free to users, with revenue coming from businesses—will provide a wide array of information, virtually instantly, about clubs, bars, events and other aspects related to nightlife. The company, Nuvu Inc., hopes to launch a beta version by May 2015.
"It's a solution to a problem," said Butler, an information systems and security major from Stafford County, who is director of technology for the fledgling company. "Now you kind of guess when you plan your night out. With this app, people won't have to wait in long lines at clubs or events only to be disappointed at what lies behind those doors."
A website for the app went live in fall 2014 and provides information about features of the app.
The company's dreams got a major boost in April 2014 when it won the Richard Bernstein Competition, an annual business plan competition for startup companies sponsored by Salisbury University's Perdue School of Business. The young entrepreneurs, one of about 20 teams in the competition, won $15,600, which has been invested back into the company.
Butler got involved in the startup through a high-school friend, Nick Giambra, the company's marketing director. The company was co-founded in 2013 by Nick Simpson and Ryan Nuzum, both of Ocean City, Md.
A few apps, including Imabee and clubZone, perform similar functions, but Butler believes Nuvu offers unique features and better functionality—for example, giving the user real-time data and a platform to connect with friends. "This is a market that has not been taken advantage of," he said.
By: Kent Booty
Comments
comments