Reading 670:
Evaluation and Applied Practicum in Intermediate and Adolescent Literacy
Instructor
Dr. Wendy Snow, assistant professor of education
High Tech and High Touch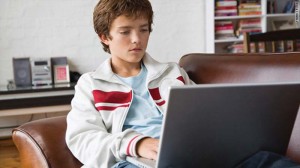 A blend of online and classroom instruction, this course is part of the graduate (M.Ed.) program in reading, literacy and learning. It includes a component where students provide tutoring to schoolchildren, and this year, following a suggestion by Snow, one section of students opted to do their tutoring via the Internet. (The other two sections did face-to-face tutoring at Cumberland Middle School.) With help from Longwood's Digital Education Collaborative, each of Snow's students tutored a fourth- or fifth-grader at New London Academy in Bedford County for an hour every Wednesday afternoon. This approach, which Snow will use again, provided flexibility by allowing students to tutor from any location with an Internet connection.
Far-reaching Impact
"This approach enables us to reach students geographically remote from Longwood who otherwise would not have access to this level of expertise from highly trained tutors," said Snow, a former reading specialist in the Bedford schools.
Assessing Young Readers and Themselves
Longwood students learn how to administer diagnostic assessments and evaluate them for their value in improving literacy instruction.
Peer Review
Tutoring sessions were automatically recorded and then reviewed by the students themselves and by others in the courses. "The technology afforded greater opportunity for teacher self-reflection and allowed students to take on the role of literacy coach, with tutors reflecting and collaborating in pairs on ways to improve their instruction," said Snow.
Suggested Reading
Assessing and Correcting Reading and Writing Difficulties (fifth edition), Thomas G. Gunning
Comments
comments