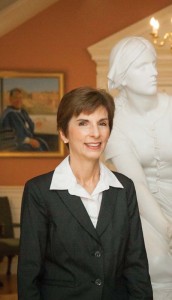 Dr. Joan Neff
Education: B.A., University of Delaware; M.A., The Ohio State University; Ph.D., The Ohio State University
Career: University of Richmond faculty member, sociology (1980-present), associate dean of arts and sciences (1986-94), associate provost (2009-present)
Family: Husband, Mike Banks, a photographer, three grown children—Jennifer, Patrick and Samantha—and four grandchildren.
During her more than three decades at the University of Richmond, Dr. Joan Neff played an instrumental role in that institution's ascent from regional to national prominence. As a professor, department chair, and, since 2009, associate provost, she was front and center as Richmond broadened its reach and impact without sacrificing its sense of community or its commitment to teaching.
President W.Taylor Reveley IV announced in March that Neff would become Longwood's new provost on July 1 , replacing Dr. Ken Perkins, who is turning his efforts at Longwood toward academic fundraising. Neff brings with her to Longwood not only a sterling record of leadership in higher education, both as a professor and an administrator, but also some other skills that are a bit unexpected.
Readers will have the opportunity to get to know the new provost better in a future issue of this magazine. For now, a few questions and answers here:
First things first: You're a fourth-degree black belt in tae kwon do? How did you get into that?
When my children were teenagers, we decided to try it as a family for recreation and fitness. After a few years, everyone else dropped out. I kept at it.
You're also an accomplished church organist. Are your musical and martial arts hobbies complementary?
Yes! Both require self-discipline and practice, as well as coordinating the movements of hands and feet to develop muscle memory. They also both have a rhythmic structure and a sense of harmony. The only time they aren't complementary is when you break a finger blocking a kick, which happened to me a few years ago. Fortunately the break was minor, and it healed quickly and completely.
Does tae kwon do ever come in handy as an academic administrator?
Yes, but not in the way you might imagine. It's a great stress reliever. When I walk into the dojang, I have to leave work concerns or issues outside the door. At the end of class I feel relaxed and ready to go back to work with a fresh perspective.
How would you describe the job of provost?
The provost oversees the core mission of the university—educating the students. It's the provost's responsibility to make sure the curricula are of the highest quality and to ensure the integrity of all academic programs. He or she is also a leader of the faculty, charged with recruiting, nurturing and retaining the best teachers and scholars in the field, and exciting them about the institution's mission.
What attracted you to Longwood?
Longwood's focus on providing students with a strong foundation in the liberal arts and sciences while preserving access and affordability was very appealing to me. I also have a great affinity for the concept of educating "citizen leaders."
But I actually think there's something even more distinctive and special about Longwood. As I talked with President Reveley and others over the last few months, I really picked up on the wonderful and vibrant sense of tradition and continuity that energizes Longwood. The sense of history and place here really complement the mission in a way that you don't find in many institutions.
How do you envision your first few months on the job?
Several themes have started to emerge, but before announcing any big goals, I want to learn more. My analytical side is very data-driven, and at this point, I need more detailed data—both quantitative and qualitative.
You're a sociologist by training, with a long record of scholarly expertise and research. How has that perspective influenced you as a leader?
Being a sociologist allows me to understand the relationship between the individual and the larger social whole to which he or she belongs. That really does help when you're working to unite people of diverse backgrounds and viewpoints in the service of the common good.
Comments
comments