Study shows Longwood's economic footprint is growing—a boon to area communities
New data show Longwood's total impact on the surrounding community and state economies has increased 28 percent in the last eight years.
The study, conducted every five to 10 years by Longwood's Office of Community and Economic Development, examines the impact of students, faculty, staff and their visitors on the statewide, regional and Farmville economies.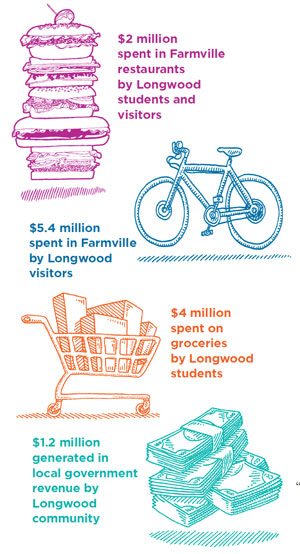 Using data from 2014, the analysis revealed that the Longwood community spent more than $116 million in the state, with nearly $50 million of that total spent locally in Farmville. The surrounding counties— Prince Edward, Buckingham, Cumberland, Appomattox, Lunenburg, Nottoway, Charlotte and Amelia—benefited from more than $12 million in spending.
"Longwood has a significant economic footprint locally as well as regionally," said Ken Copeland, vice president for finance and administration. "Every dollar that is invested locally by a member of the Longwood community grows right here, improving our home and creating jobs and income. We are also a reliable source of tax income for the town and county, meaning our dollars help provide the roads, schools and services that everyone depends on."
Economists use multipliers to determine the total impact of spending in a certain region, as each dollar spent supports jobs and businesses central to the local economy. In the new study, analysts estimated the Longwood community's total effect on the local and state economies at more than $174 million, an increase of nearly $39 million since the study was last conducted in 2008.
"We use a very conservative multiplier," said Copeland. "Yet with that estimate, we've still seen a significant growth rate over the last study period. That kind of growing economic footprint not only supports local businesses and restaurants, but also lifts up the entire community."
Study highlights include the following:
Longwood students spent more than $20 million in Farmville in 2014.
Longwood University visitors spent $5.4 million, and 69 percent of that total came from students' visitors.
Longwood students spent nearly $4 million at grocery stores in Farmville, while spending more than $2 million at area restaurants.
The Longwood community generated $1.2 million in local government revenue.
"Longwood University continues to be an economic driver for our community," said Farmville Mayor David Whitus '83. Longwood provides stability for our local economy and is the economic engine that helps propel our community forward."
To that end, officials at Longwood's Small Business Development Center actively use the data collected to focus their efforts. It points us in the right direction when we identify and approach businesses to relocate or expand to Farmville," said Sheri McGuire, director of economic development and executive director of Longwood's Small Business Development Center network. From the data we collected, we can identify growth areas and further hone our strategic approach to helping create a vibrant downtown that draws students, faculty and staff in even greater numbers."
—Matthew McWilliams
Comments
comments