Alumni Awards honor 6 men and women who have made their marks
Alumni and friends gathered on campus March 18 to recognize six men and women who have used their Longwood education as a springboard for achievement and citizen leadership. In addition to the four awards that have traditionally been given, two new awards were established this year.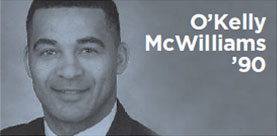 O'Kelly E. McWilliams III '90 received the William Henry Ruffner Alumni Award. McWilliams, a corporate and employment lawyer who lives in Oakton, is the office managing partner of Gordon & Rees' Washington, D.C., Virginia and Maryland offices. A graduate of George Mason University's law school, he specializes in providing strategic business solutions that mitigate risk and build equity value for his clients. He is the general counsel for the National Association of Investment Companies, past member of the Board of Governors of the American Bar Association, former president of the Virginia State Bar's Young Lawyers Conference (YLC) and in 2005 received the YLC's R. Edwin Burnette Jr. Young Lawyer of the Year award for dedicated service to the YLC, the legal profession and the community. At Longwood, where he majored in business administration, the Richmond native was a member of the Honor Board, Chi, the Longwood Ambassadors and Kappa Alpha Psi fraternity.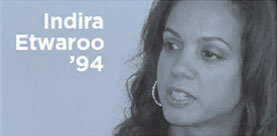 Dr. Indira Etwaroo '94 received the Thomas Jefferson Professional Achievement Alumni Award. Etwaroo is executive director of the Center for Arts and Culture at Bedford Stuyvesant Restoration in Brooklyn, N.Y. In her arts-oriented career, she also was executive producer and director of a National Public Radio project called NPR Presents. She spent a year in Ethiopia as a Fulbright Scholar in 2003, collecting stories from displaced Somali women. At Longwood, the Newport News native was a music major and danced with the Longwood Company of Dancers. She has a Ph.D. from Temple University.
Ashby Dodge '98 received the Jabez Lamar Monroe Curry Humanitarian Alumni Award. Dodge is clinical director of The Trevor Project, the leading national organization providing crisis intervention and suicide prevention services to lesbian, gay, bisexual, transgender and questioning youth. She also is a licensed clinical social worker with a private practice. She has lived in and worked in New York City since graduating from Longwood, where she majored in theatre with an emphasis in drama therapy. A Navy dependent who grew up mostly in Hawaii, she has a master's in social work from Fordham University.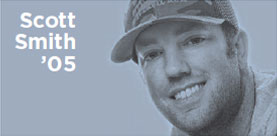 Scott Smith '05 received the Rotunda Outstanding Young Alumni Award. Smith is one of four owners and operators of Outer Banks Distilling in Manteo, N.C. A Newport News native, Smith and three longtime friends formed the business in March 2013 after quitting their jobs in a leap of faith. Their small batch distillery produces Kill Devil Rum, white rum and spiced rum, first sold in May 2015 and now sold throughout North Carolina. At Longwood, he majored in communication studies and was a member of Alpha Sigma Phi fraternity.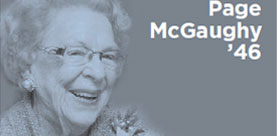 Page Cook Axson McGaughy '46 received the first Lifetime Loyalty Award, which will be named in her honor for future recipients. A longtime Longwood benefactor who lives in Norfolk, McGaughy is a former president of the Alumni Association and a former member of the Foundation Board. She and her previous husband, who died in 2002, established an endowed scholarship in 1991 and helped establish the John B. and Page Cook Axson McGaughy Professional Development Center in the College of Business and Economics in 2003. The retired Chesapeake teacher received the Distinguished Alumni Community Service Award in 2006. She has a master's degree from Old Dominion University.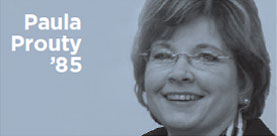 Paula Clay Prouty '85 received the Nancy B. Shelton Spirited Contributor Award, also presented for the first time March 18. Prouty, who has filled several advancement roles since joining Longwood three months after she graduated, worked closely over the years with Shelton, former associate vice president for alumni relations who retired in 2015 after leading the program for 41 years. Prouty, who currently is director of advancement services, directed the annual fund early in her Longwood career and was instrumental in helping to plan myriad Longwood events, including alumni reunions and the annual Scholarship Benefactor Luncheon. As a student, the Chesterfield County native majored in sociology and was senior class president, a member of Geist (now Mortar Board) and was among the first students to serve as Longwood Ambassadors, a group she went on to advise. She has twice received a Chi Commendation and served as a role model and helper to Chi's membership throughout her tenure. Prouty will retire later this year after more than 30 years of service.
—Kent Booty
Comments
comments