Management 495: Strategic Forecasting
Instructor
Dr. Steven Samaras, assistant professor of management
Lessons learned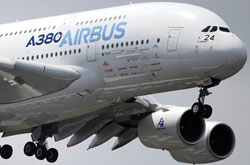 In this course, taught for the first time in fall 2015, students learned how to predict the future— from a business point of view—building a complex, flexible forecasting model to inform decision making for major long-term strategic decisions. "You have to look out into the future, sometimes 20 years down the road, and model for all of the possibilities. It's a what-if analysis," said Samaras. "Unlike traditional forecasting, which seeks to extend current trends into the future, in strategy forecasting you're forecasting for contingencies such as changes in competitors' actions or changes in the firm's business environment."
Real-world scenario
Students created a forecasting model based on a real-world scenario: Airbus' still-unproven decision in 2000 to begin building the world's largest passenger aircraft, the A380, which represented a $13 billion investment. Samaras assigned students to teams that developed a 20-year flexible strategic model based on differing market demand forecasts as well as for the impact of each of five possible competitive responses by Airbus' main competitor, Boeing.
Valuable skills
Some of the students who took the class were told when they were applying for internships that strategic forecasting is a skill "supervisors are really looking for," said Samaras.
Professor's experience
Samaras, whose expertise is strategic management, built "very large strategic models" for a Fortune 100 company during his previous career in the corporate world.
Suggested Reading
Key Performance Indicators: Developing, Implementing, and Using Winning KPIs (second edition), David Parmenter.
Comments
comments