Women key in on patience, consistency
Development has been the name of the game for women's golf during the two-year tenure of head coach Shannon Briggs, and the Lancers are hoping to parlay their breakout fall into a big spring. Briggs, who retained each player from her inaugural 2014-15 team, guided her squad to a climb of 59 spots in the GolfStat.com rankings in the fall, the second-largest jump of any Big South team behind only Gardner-Webb. That surge came on the strength of three top five finishes in four events with a top-six team finish in each tournament, highlighted by the squad's runner-up finish at the Chesapeake Bay Invitational. "Our strength as a team in developing favorable results will be determined by our ability to be patient and consistent," Briggs said. As a team, Longwood averaged a 310.45 throughout 11 rounds, improving on a stroke average of 313.93 in 14 rounds during Briggs' first fall. The Lancers had a team score of 309 or lower in five of those 11 rounds, setting the stage for the veteran-laden squad to break out in Briggs' second season. Individually, four Lancers set career-low scores throughout the fall, including Asha Bala Krishnan '16, a business major from Johor Bahru, Malaysia; Kyra Horlock '18, an exercise science major from Wimborne, Great Britain; Courtney Tolton '17, a business major from Mitchell, Ontario, Canada; and Crystina Kertsos '18, a finance major from Pickering, Ontario, Canada. Those four make up the core of a Lancer squad that boasts six upperclassmen. "Fundamentally, our team has the tools for success," Briggs said. Horlock was Longwood's top golfer in the fall, leading the squad with a 76.18 scoring average and two top-10 finishes, while Tolton logged a 77.18 average and a top-five placing at Chesapeake Bay. Longwood plays five tournaments in the spring.
—Todd Lindenmuth
---
Men to lean on young core in spring season
Youth will be the theme for the Longwood men's golf team entering the spring of head coach Kevin Fillman's 19th season with the program. Jordan Boulton '19, a business major from Mansfield, England, and Adam Szwed '19, a kinesiology major from Woodbridge, led the team in stroke average this past fall with Boulton twice earning Big South Freshman of the Week honors while notching a runner-up finish at the Maryland Invitational. "I think we're trending upward as a team," Fillman said. "We had a lot of years where we were very fortunate, but the last three years we haven't been where we've wanted to be. I feel we're headed in the right direction. We have three talented freshmen to mix in with several other players." Szwed logged a 74.00 stroke average and matched Boulton with the team's low score in the fall with a four-under par 67. Szwed finished inside the top 35 in four of five fall tournaments while carding a pair of rounds in the 60s. Joining the program in January, latecomer Jakob Streijffert '19 from Skanor, Sweden, will accelerate the Longwood youth movement after a successful junior resume in his native Sweden. "I've gotten the opportunity to see Jakob a little bit," Fillman said. "He has a good, solid golf swing and hits a lot of flush shots, which is good to see. I think he'll be able to post some really good numbers for us." Clayton Forren '17, a finance major from Rustburg, and Nick Contini '18, a finance major from Granville, Ohio, each look to build off a solid fall and add depth to the Longwood lineup. Both were able to break par on three occasions during the fall. Alex O'Dell '16, an economics major from Crozet, adds even more depth with four top-10 finishes in his career. The Lancers will play four events prior to the Big South Championship, including a three-day event at the famed Kings Mill Resort in Williamsburg.
—Todd Lindenmuth
---
Lancer Club Open returns April 23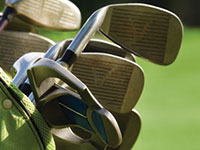 The annual Lancer Club Open returns April 23 at The Manor Golf Club in Farmville. This year's alumni golf event will feature a scramble format in a single flight with a start time of 8:30 a.m. The athletics fundraiser pairs Longwood alumni with student-athletes, coaches and athletics staff for a round of casual golf and Lancer camaraderie. "The Lancer Club Open is quickly becoming a favorite among supporters of Longwood athletics for the opportunity to come together at a premier golf course," said Trey Eggleston, director of athletics development. More than 60 alumni and friends of Longwood participated in the 2015 event, which raised more than $10,000 to support Longwood athletics. Registration for individuals is $125; registration for groups of four is $350.Team or individual registration includes a tournament gift bag, green fees and cart, a boxed lunch delivered on the course, four drink tickets per golfer and entry to a post-tournament barbecue reception and awards ceremony. Registration is limited to 25 groups. The Lancer Club Open offers a variety of sponsorship opportunities for local businesses. For more information, contact Eggleston at 434-395-2138 or egglestontm@longwood.edu.
Comments
comments