Alumna starts tidal wave of holiday cheer that has spread from Virginia to New York and Florida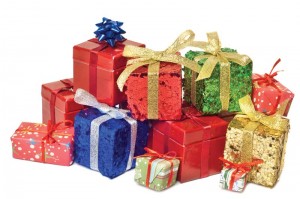 If you ever doubt the ability of one person to start something big, proof is no further away than Kathleen Manning Holroyd '96, who lives in Northern Virginia.
Her desire to get her children involved in a philanthropic project at Christmas has resulted in an annual event that has touched the lives of hundreds of participants and recipients alike and has spread to Florida, New York and several communities in Virginia. And that's just in the last two years.
It's known as the Big Give, and, in Northern Virginia, it usually goes something like this. On a Sunday morning close to Christmas, Holroyd's friends and their families gather at her house in Bristow. They load up the cars with gifts and holiday goodies, form a caravan and head out for destinations that have included police and fire stations, assisted living facilities, animal rescue organizations and individuals' homes.
Last year, the caravan was 19 cars long and included more than 60 people, many of whom were Longwood alums. This year's event, held Nov. 23, was just as successful.
The list of those on the receiving end of the Big Give may not be as long as Santa's, but it's significant. Participants have given gift baskets to nurses, fulfilled entire families' Christmas wish lists, supplied leashes and dog food for animals in shelters, paid off layaway accounts and once left a waitress at a diner a $200 tip.
"Many Big Give moments have touched me, especially when I see when one of our Big Give kids connecting with an Alzheimer's patient or taking the time to pick out a Christmas gift for a little boy with cancer," said Holroyd, adding that many children participate in the Northern Virginia event each year.
Wanting to share in the experience, others have organized Big Give days in their communities, including Colleen McCrink Margiloff '97, recently elected rector of Longwood's Board of Visitors, who organized the one held last year in New York. Events in Virginia have been held in Winchester and Richmond, and Casey Litchfield Just '97 is planning one for Charlottesville this year.
"I had no idea it would catch on the way it has, but I am thrilled," said Holroyd. "I started the Big Give as a way to bring my family and friends together around the holidays to give back to our community. It has been such a bonding experience for all of us. It's our favorite day of the year."
Big Give day is a favorite with Heather Nearebout Silman '96 and her family, as well. "My kids look forward to it and talk about it all year," said Silman, who participated in the first Northern Virginia event and came back the next year. "Unlike Habitat for Humanity or a soup kitchen, which my kids are too young for, it's something the whole family can experience."
Anyone who's interested in bringing the Big Give to his or her area can contact Holroyd at kcholroyd@gmail.com.
Comments
comments