Business school commits to educating values-based leaders from elementary school to MBA program
by Dr. Paul Barrett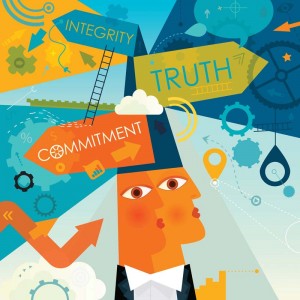 It's been a little more than five years since the end of the Great Recession, and the anniversary gave economists and journalists a reason to reflect. Articles in publications such as The Economist and The Economic Times looked back on "the worst recession in 80 years" and looked forward to the possibility that the U.S. economy will never completely rebound.
Strikingly downplayed in this recession anniversary discussion, however, was mention of what really brought the U.S. economy— and indeed the world financial system—to its knees. At the heart of the crisis was a glaring lack of ethics among those working in the mortgage and banking industries, which led to greed, disregard of risk, bad decision making and, ultimately for many average Americans, financial ruin.
How could this happen?
Ethics had been leaking out of American culture, particularly corporate America, for decades by the time disaster struck at Lehman Brothers in 2008. Since then, many business schools have added or reinforced ethics courses in their curriculum. But it's going to take more than that to reinfuse ethics into the DNA
of American society.
We need to right the ship, to take bold steps to stop the next ethics-based recession. At Longwood, as a business school tasked with developing leaders in organizations and communities, we decided we owed it to the generations that will follow us to form and activate a solution.
Realistically, any solution is likely to take a generation or two to show results—but it can be done.
We call our solution Citizen 7. Essentially, our model is based on ethics and values— timeless principles that act as a road map for decision making and behavior. I want to make it clear how we define values. We're simply talking about principles such as honesty, hard work and concern about how our actions impact others.
We spent 18 months researching, discussing and finally embracing seven values that form the foundation of the Citizen 7 program: integrity, accountability, respect, teamwork, communication, win-win thinking and growth.
We spent a similarly long time identifying a process that would spur a continuous behavioral change process based on these  seven values. We found that process in the Franklin Covey 7 Habits of Highly Effective People. 7 Habits is a secular, inclusive process that has worked well in elementary schools, universities and all types of for-profit, nonprofit and governmental organizations.
Since 2010, every freshman, MBA student and full-time faculty and staff member in the College of Business and Economics at Longwood has participated in the 7 Habits training, along with 300 other Longwood employees. (Longwood receives no financial gain from 7 Habits.) We obviously feel this is critical to the education of ethical business leaders for the future—but it's not enough to create the sea change that is necessary in American society, so we took it a step further.
We introduced the Leader in Me process, which is based on the 7 Habits, to the Prince Edward County school board. They implemented it at the elementary school, where it has been an overwhelming success. In just one year, discipline referrals dropped 21 percent, and students were energized with several new programs, including a daily TV news operation. The school has been transformed into a place where student leadership and student-centered teaching are the norm. The students exhibit mutual respect, and their focus is on learning, applying the 7 Habits in all aspects of their lives. That's progress.
The shaping of values begins at an early age for each of us. This journey involves a mastery of thinking, feeling and behaving in a way that is consistent with our purpose in life. Imagine a world where values-based leaders band together to change their organizations and their communities for the better.
As anthropologist Margaret Meade once said, Never doubt that a small group of thoughtful, committed citizens can change the world. Indeed, it is the only thing that ever has." We can do this. We are doing it.
Comments
comments