First season as high- school soccer coach, math teacher yields success for former Longwood player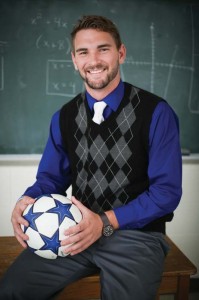 Devin Pierce's rookie season as coach of the Prince Edward County High School boys' soccer team was notable—and not just for the conference championship team's win-loss record.
Fresh out of Longwood, where he was a standout soccer player himself, Pierce '13 took over the team in spring 2014 along with teaching Algebra II and Advanced Placement (AP) Statistics. He was calm and composed on the sidelines, projecting more like a veteran than a first-year coach. Dressed in slacks and
a tie for games, he expected his players to wear that same "uniform" to school on days when they were playing at home. He earned the respect of officials, his players and their parents.
"I was impressed with his composure on the sidelines—and not just that but also the way he dressed," said Rodney Kane, director of athletics at Prince Edward. "I really think it gave him credibility with the players and the officials that he was taking this very seriously."
You can't get much more serious than an undefeated regular season (with one tie), the district championship, the conference championship and the Elite 8 at the state level—which is what the Prince Edward Eagles accomplished in Pierce's first year.
Granted, Pierce inherited a skilled squad from previous coach Sebastian Chirila, who had coached most of the boys since middle school, but Kane said Pierce "took the team to the next level."
Despite his success, teaching and coaching were hardly Pierce's goals as he worked his way through a Longwood math major. He was aiming for a lucrative career, with an eye toward creating a comfortable, family-centric life.
"I grew up in a big family. I had four brothers and two sisters, and I could just see it with my parents sometimes—they would struggle, not to pay the bills, but to give us anything that we wanted," he said.
After graduation he moved back to his native Virginia Beach, where he was pursuing a position at Wells Fargo—a stepping stone toward a financial advisor gig, he hoped—when he balked.
"I kind of was in a quarter-life crisis and didn't know what to do," he said. Through a Longwood professor he learned about the position at Prince Edward. A week before he was to start at Wells Fargo, he headed back to Farmville for the interview.
Now he finds that the unplanned profession suits him. "I got immediate gains from it," he said. "Within the first week I had already seen a difference in students' attitudes."
Dr. Melanie Marks, professor of economics at Longwood, is the parent of a Prince Edward player and taught Pierce when he was at Longwood. She said his players adored him, dubbing him "DP" because "Mr. Pierce" didn't quite fit.
"You have never seen a group of guys love a coach more than these guys love DP," she said. He's a superstar."
Apparently Pierce is a superstar in the classroom as well. Marks' son took statistics from Pierce last year and scored a 5 on the AP exam, the highest possible score.
Comments
comments